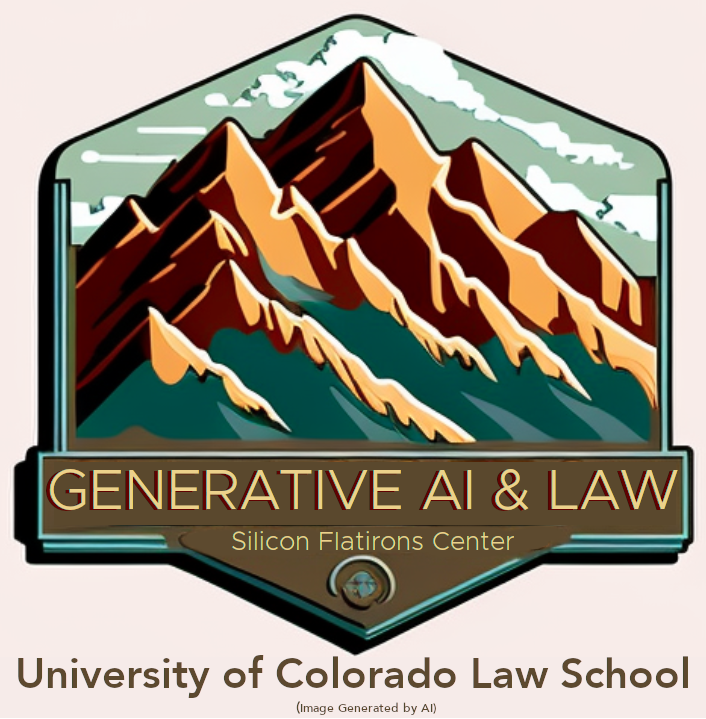 Generative Artificial Intelligence (AI) refers to AI systems that are capable of generating text, images, and other digital content. Recent breakthroughs have seen generative AI systems, such as ChatGPT,  that can produce written text at a level that, in some cases, matches or exceeds human ability. Similar advances have occurred in the production of AI generated art and music, illustrated by systems such as Midjourney. The speed at which these AI advances have occurred, and the quality of the output that these systems produce, have surprised many who study the field of AI.
This conference will explore the role of Generative AI in several legal contexts. The first is the ability of Large Language Model AI Systems (LLMs) like ChatGPT to produce legal documents, such as contracts, legal pleadings, patents and other written legal instruments. Another is the impact of AI-generated art and music in the context of Copyright law and Fair Use. Finally, we will examine the societal implications of AI systems that can produce high quality outputs – such as legal documents or art – that previously only people could create.
---
Panel Descriptions and More About Generative AI
04/21/23 8:15am - 9:00am
Check In & Breakfast
Attendees are welcome to check-in and enjoy a continental breakfast buffet before the day's programming gets underway.
04/21/23 9:00am - 9:45am
Welcome & Introduction
Harry Surden
Professor of Law, University of Colorado Law School
Harry Surden
04/21/23 9:45am - 10:55am
The Practice of Law, ChatGPT, and Other Large Language Model (LLM) AI Advances
Large language models (LLMs) have very recently acquired the capacity to perform various tasks that were once exclusively within the purview of lawyers, including drafting contracts, composing legal motions, preparing patent applications, and conducting legal analysis. Panelists will examine the role of LLMs like ChatGPT in legal practice by discussing their capabilities and limits in law, both in the short term and nearer term, as well as the ethical issues surrounding the use of these technologies.
Harry Surden
Jason Adaska
Pablo Arredondo
Megan Ma
Daniel Schwarcz
04/21/23 10:55am - 11:15am
Break
04/21/23 11:15am - 12:15pm
Generative Art, Music and Intellectual Property Law: Fair Use, Costless Creation, and Creativity
Until recently, AI systems could not produce creative output that were close to human output, but just in the past year, AI advances now allow systems to create art, music, books, articles, and other creative output, at levels that meet, and sometimes exceed human output. This raises many novel issues in law, particularly in IP law, such as those around Fair Use, the implications for creators who might be displaced by this technology, and how IP laws might address an era of costless creation. Panelists will delve into these issues surrounding the use of generative AI for art, text, and music creation.
Blake E. Reid
Daniel Acuña
Casey Fiesler
Viva Moffat
04/21/23 12:15pm - 1:15pm
Lunch
@ Wolf Law, Boettcher Hall
Lunch provided for conference attendees.
04/21/23 1:15pm - 2:30pm
Potential Positive and Negative Impacts of Large Language Models on Governance and Society
Panelists will explore the broader societal considerations of LLM technology and its potential impact on governance and society from both a positive and negative perspective. Topics of focus will include AI-generated legal documents, the balance between productivity gains and worker displacement, the disruption caused by AI in multiple areas, and the impact of costless or near-costless creation on processes.
Harry Surden
Eliana Colunga
Orly Lobel
Martha Palmer
04/21/23 2:30pm - 3:30pm
Dessert Reception
After the conference concludes, attendees are invited to Boettcher Hall for dessert, refreshments, and conversation.